JULIEN LEVY: A MAESTRO OF SURREALISM
When Julien Levy opened his gallery in 1931, he was a twenty-five-year-old Harvard dropout, the husband of beautiful Joella Haweis, and the father of two young boys. He was also an aspiring writer and a risk-taker eager to pit his iconoclastic ideas against the prevailing social norms. An incredibly complicated and mercurial man, he could be charming or rude, generous or stingy, insecure or arrogant. It was his good fortune, however, to possess a brilliant mind, a knack for showmanship, and a determination to champion the new and different—qualities that allowed him to chart an unorthodox course through the often treacherous terrain of New York City's art world.
Only two months after opening his eponymous gallery, Julien made history when he mounted an exhibition of Surrealist art that immediately secured his reputation as a provocateur. From there he proceeded to launch artist after artist, many of them Europeans unknown to American curators and collectors. In 1936 he published his book Surrealism, in which he explained, "Surrealism is a point of view and as such applies to painting, literature, photography, cinema, politics, architecture, play and behavior." Taking his own definition to heart, he dedicated himself to showing all forms of art created by all sorts of people. During the eighteen years that his gallery was active, he showcased a diverse selection of works and mounted solo exhibitions for more than 115 artists. Among them were Berenice Abbott, Ludwig Bemelmans, Manuel Álvarez Bravo, Alexander Calder, Milton Caniff, Henri Cartier-Bresson, Giorgio de Chirico, Jean Cocteau, Joseph Cornell, Salvador Dalí, Marcel Duchamp, Max Ernst, Walker Evans, Alberto Giacometti, Arshile Gorky, Frida Kahlo, Tamara de Lempicka, George Platt Lynes, Man Ray, Lee Miller, René Magritte, Roberto Matta, Wolfgang Paalen, Kay Sage, Ben Shahn, Rufino Tamayo, Yves Tanguy, Dorothea Tanning, and Brett Weston—an amazing roster of names few art dealers could ever hope to equal. One New York Times art critic admiringly dubbed him a "maestro" of the art world.
To the dismay of Julien's real estate developer father, making money was never his eldest son's main objective. Julien was pleased when an artist's work sold well, but as long as his gallery broke even, he was content. As far as he was concerned, one of the most enjoyable and meaningful aspects of owning a gallery was the congenial environment it provided for spirited aesthetic and intellectual discussions among the artists, writers, musicians, and chess aficionados who convened there. But by the late 1940s, for a myriad of reasons, Julien became disillusioned with the art world. In 1949 he closed his gallery and retired to a farmhouse in Connecticut with his second wife, artist Muriel Streeter. When they, too, went their separate ways, it was thanks to his third wife, the former Jean Farley McGonigle, that Julien finally succeeded in conquering his addiction to alcohol. From then on, he enjoyed a highly productive second career—writing, teaching, and lecturing about Surrealism to a whole new generation of students, museum goers, and art collectors.
On a personal level, Julien's life was undeniably convoluted. He married a succession of three very accomplished women and had numerous extramarital affairs, including at least three with his female artists. Despite his character flaws, however, Levy was responsible for launching the careers of many artists who became famous as a result of their initial exposure through his gallery. To those who knew Julien well, he was an imperfect but unforgettable human being who lived a highly unconventional life. As collector and curator James Thrall Soby once declared, "[Julien] was as close to being an official surrealist himself as one could come without signing one of André Breton's guidelines to the surrealist faith."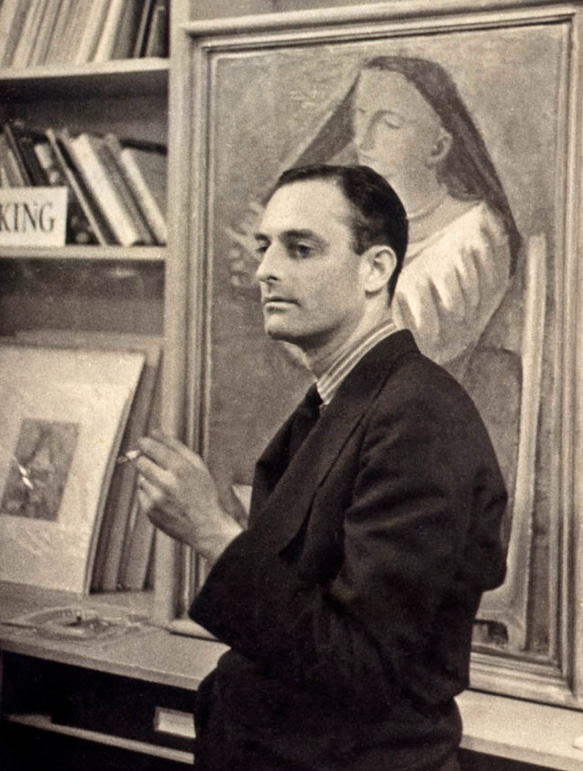 Unknown photographer, Julien Levy, ca. 1932. Gelatin silver print. Image
courtesy of JJLF.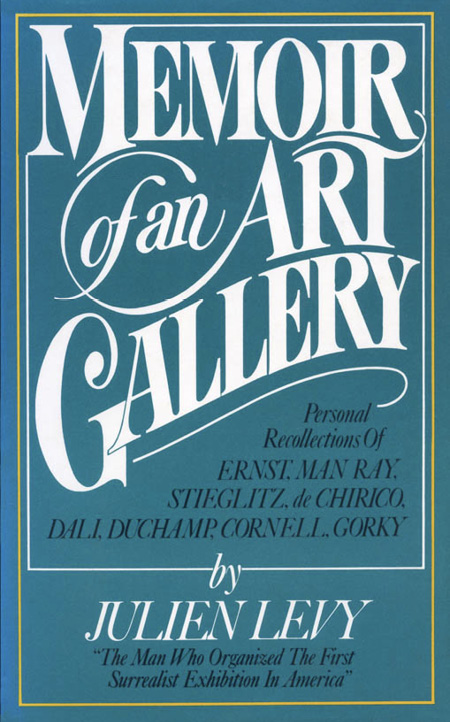 Cover of Julien Levy's Memoir of an Art Gallery, published in 1977. Image courtesy of JJLF.